The Maturo Brothers Talk Making "Girl Meets World" a Family Affair!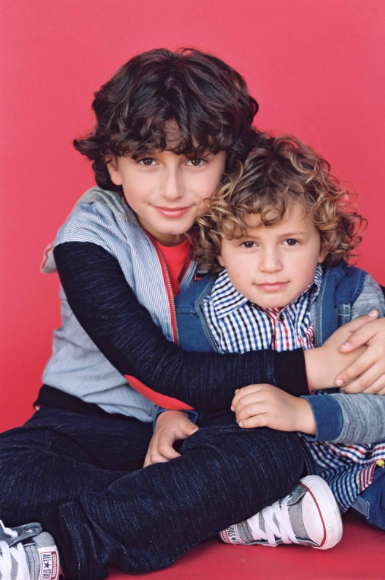 Watch The Disney Channel, August 26 at 8:30PM!
There's no sibling rivalry between brothers August and Ocean Maturo. The two sibling don't even mind sharing a birthday! On August 28th, 2016, August (Auggie) turns nine, while Ocean turns five! On Friday, August 26, the brothers will share something else... August's role as "Auggie Matthews on the Disney Channel hit, "Girl Meet's World!"
In the episode titled "Girl Meets Bear," Ocean will play his real life brother's character in a flashback scene. We spoke to both Maturo boys recently about what is was like to work on the same show together. Of course, they thought it was a blast!
Filming the episode was a little surreal for the eldest Maturo. "I didn't actually work with him, but it was actually really fun seeing him on the set. I always see him on the set, every day, just for visiting. It's unusual that he's on the set and I'm standing in the background watching him! I never thought that would happen in my life! On my own show and he's playing a flashback of me," Auggie gushes.
Ocean is just starting to go on auditions and tells us that he got into acting, "Because Auggie was doing it and it was fun!" How sweet that one of his first roles is a character so dear to the whole family. "I was playing 'Auggie Matthews' when he was three," Ocean tells us, when asked about his part. "It was so fun and so amazing!" he says excitedly. "The most awesomest part was acting, like Auggie!" he reveals.
Auggie thought his brother was a natural. "He was really good!" Auggie praises. "Once he was done with the first [take], then he's like, 'That's how you do that Mom!'" Auggie laughs. "It was really funny!"
Ocean should almost be an old pro by now, because he and Auggie have already been making movies at home for a while now. "He already knows about 'Action,' 'Cut,' 'Hold,' everything," Auggie explains, "because we started making movies, even before I was on 'Girl Meets World.'"Auggie films movies on his Ipad with Imovie. "I go, '3,2,1, action" Auggie says about using real filming terms while creating their projects.
Auggie has had a blast on his three seasons of "Girl Meets World." He tells us that he went from knowing no one on the set to becoming friends with everyone and he's so proud of everyone's success. "So if Sabrina walks by, I go, 'Hi Sabrina!' and I know exactly what she does. She has a new song. We're going to her concert! I know everything now! She just went to Australia but she's back," he says proudly.
As most fans know, the show is a spin-off of a show called "Boy Meets World" and Auggie plays the son of characters originated on that show. Has he watched his TV parents on their first go around? "Rowan did," he tells us. "Every single episode!" He might have to wait until he becomes a teen to see the whole series. "I just watched the first season because the second season wasn't appropriate yet. And I have a younger brother around so I can't have him see those things," he says responsibly.
As of right now, the cast and crew of "Girls Meets World" has finished filming Season 3 and are waiting on word about whether or not there will be a season 4. "The season just ended but not the show, hopefully!" Auggie says. "If you guys want a Season 4, tweet Disney Channel immediately!" he rallies. It's really important to let the Disney Channel know how much you want to see these characters in new adventures!
Don't forget to tune in to the Disney Channel on August 26 at 8:30pm to see two Maturo Brothers in one episode! Auggie also drops another hint about what to expect from the episode."Cory gives something really special to Auggie, so watch out for something like that!" he teases. Sounds like an episode that is well worth watching! But then again, aren't they all?
For more on "Girl Meets World" visit http://disneychannel.disney.com/girl-meets-world
Check out a clip from the episode here: