EnterTeenment News Presents: Backstage Creations' Teen Choice Awards Celebrity Retreat!
Jump to: About the Products
Share this page with friends! Tweet
Backstage Creations Hosts A Celebrity Retreat in Honor of FOX's "Teen Choice Awards!"
We know that entertainment fans can't stop talking about the 2017 Teen Choice Awards presented by FOX! This year's event was broadcast live from USC's Galen Center on August 13 and awards were given to some of today's biggest stars like Chris Pratt, Fifth Harmony and Vanessa Hudgens. You guys should be be proud for casting over 63 million votes to pick the winners and make the show a huge success!
While the likes of Louis Tomlinson with Bebe Rexha, Rita Ora and KYLE, alongside Lil Yachty, Clean Bandit with Zara Larsson, French Montana and Swae Lee with Triplets Ghetto Kids, Rae Sremmurd, and the cast of FOX's STAR (Jude Demorest, Ryan Destiny and Brittany O'Grady) rocked the stage on TV, there was some way-cool action happening backstage as well. Keep reading to find out what a ton of celebs were up to before, during and after the exciting event!
There is a super cool company called "Backstage Creations" that forms a unique partnership with the makers of super cool products and introduces entertainers to these products at events such as the Teen Choice Awards. The backstage showroom is typically called a "Retreat" and presenters, performers and guests get to preview new products or reconnect with old faves by strolling through the displays set up by Backstage Creations. It's a win/win for everyone!
"Black-ish" Stars Yara Shahidi and Anthony Anderson Talk Fun New Finds With Music Group Rae Sremmurd at the Backstage Creations' Retreat!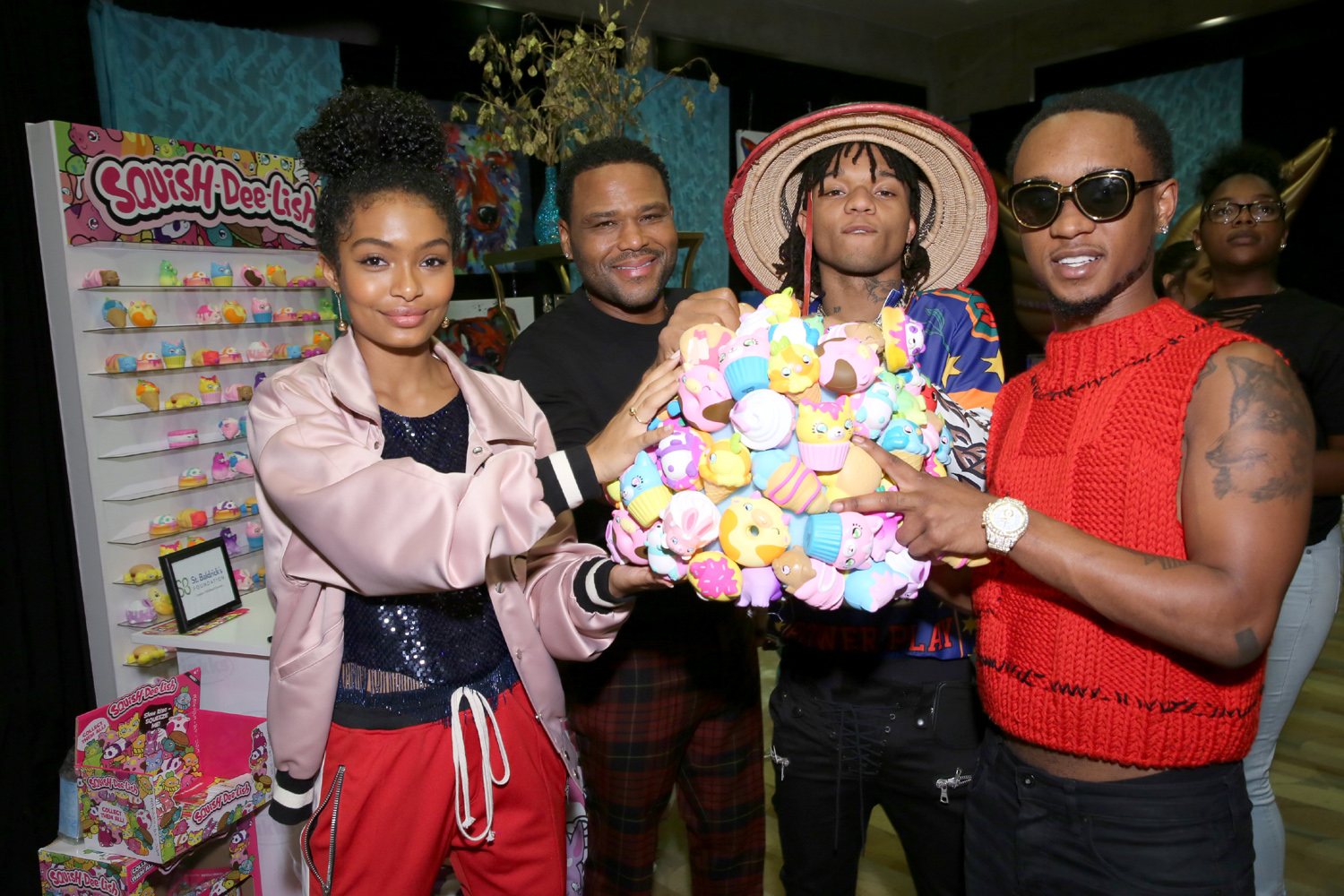 Photo provided by Backstage Creations and Wire Image
We know you wanna know all the scoop on what cool items the celebs picked up over the Teen Choice weekend and we've got you covered! Below is a breakdown of what products were featured and where you can get these cool items for yourself!
Information about the products:
1More Headphones
1MORE is a premiere consumer electronics audio company headquartered in San Diego, California. Their mission is to deliver superior quality headphones at an amazing value to customers, disrupting an industry where price hiking and design shortcuts are the norm.
Singer Ne-Yo was way impressed with the product. He really appreciated the fact that they had amazing sound quality and were easily affordable for the masses.
To find out where you can get your own set of 1More Headphones, check out the link below.
Squish-Dee-Lish Squishies by Jakks
Performer Bebe Rexha thought that the SQUISH-DEE-LISH SQUISHIES BY JAKKS smelled amazing, and stated, "Maybe I do really need this just to keep in my bag."
To nab a couple for yourself, check out the link below.
HANAZUKI
Adam Scott stopped by the HANAZUKI brand from Hasbro station and stated, "I have an eight year old daughter, so I'm sure she's going to love this!"
To learn more about HaulsTV check out this link:
Darren Campo
Music duo Rae Sremmurd was intrigued by Darren Campo's Stingers presented by TVGuestpert Publishing. One of the guys ended up taking a book with him and said, "I'm going to take Stingers, as we have a book club for when we fly on planes."
To use his books in your book club, visit:
Island Plantation Luxury Jungle Resort
The same member of Rae Sremmurd was also excited to hear about the Island Plantation Luxury Jungle Resort and said he will definitely take a trip since he's been planning on taking a vacation soon.
http://www.IslandPlantationBocas.com
Malibu Jane
One of our faves and Teen Choice 2017 winner, Janel Parrish, said she loved the squishy comfort of the Malibu Jane flip flops.
To learn more about Malibu Jane, check out their website below.
BB8 by Sphero
Ne-Yo also stopped by the BB-8 by Sphero table and had a great time. He said that it was going to be a perfect gift for his son.
Add this to your memorabilla by visiting:
Croton Watch Co.
Thomas Barbusca picked out a silver and black watch from CROTON WATCH CO. He said, "I like my watches clean and simple which is why I was immediately drawn to this one."
Choose the style that best fits you at:
The Retreat Costa Rica
Sydney Sierota of the band "Echosmith" was thrilled when she was stopped by The Retreat Costa Rica, a Diana Stobo Property station. She was super excited to learn that it was a health and wellness retreat, as it was something that she said she really needed right now.
Find out when you can check in by visiting:
Kulani Kinis
The cast of the upcoming show 'Star' on FOX, were all extremely eager to take home Kulani Kinis swimwear. They were ready to take a dive in the trendy bathing suits!
Pick out your style at:
dav Weatherproof Luxury Boots
Marcus Scribner loved how stylish the dav Weatherproof Luxury boots were. He highlighted the fact that they didn't look anything like traditional rainboots. www.davrain.com
Check them out here:
West Coast Vibes
Yara Shahidi loved her West Coast Vibes Customizable Bomber Jacket, and thought it was awesome that it was customized just for her with her name on it.
Find out how to get one for you here:
Looks like everyone had a great time! Check out these products for great back-to-school fashion and fall fun!
Special thanks to Backstage Creations for introducing us to such cool companies and products. For more information on how to connect your business with this awesome event/promotion team, visit: www.BackstageCreations.com