Lights! Camera! Drama! Freeform's new series "Famous in Love" Premieres on April 18!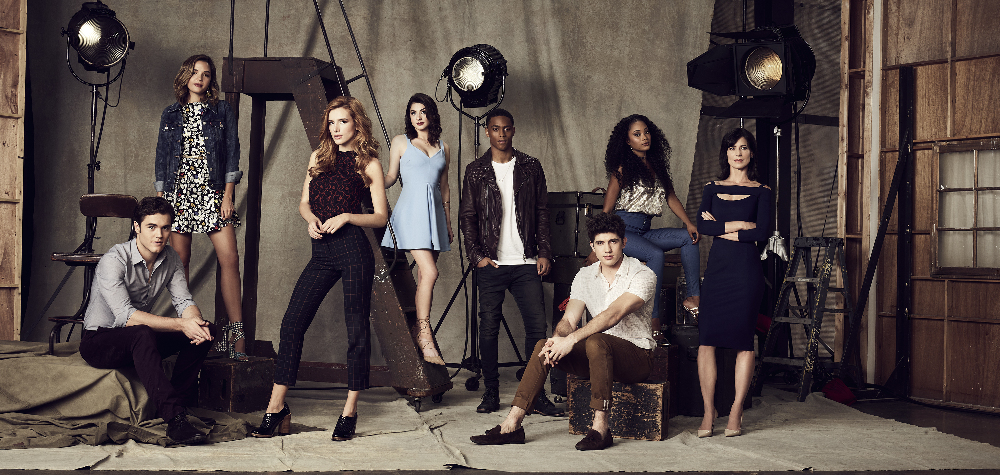 Familar and Fresh Faces are Ready For Their Close-Up!
Based on the novel by Rebecca Serle published by Little, Brown and Company and brought to life on the small screen by "Pretty Little Liars" creator, I. Marlene King, "Famous in Love" is an addictive new drama poised to premiere on the Freeform channel on April 18 (directly after the return of "PLL" and the first of its final ten episodes). The show follows college student Paige Townsen (no D at the end), a studious twenty-something who secretly dreams of being an actress. Her best friend Cassie convinces her to go to a cattle-call audition for a huge blockbuster movie and everyone is shocked when Paige gets the part.
Paige must suddenly nagivate the murky, back-stabbing waters of Show Biz while trying to stay true to her family, her friends and most importantly... herself. This proves harder to do with each passing day as new friendships grow and old friendships get placed on the back-burner.
See a sneak peak here:
Before you tune into the premiere at 9:02PM EST on April 18 on Freeform, get to know Paige's best friend "Cassie" as we introduce you to actress Georgie Flores below!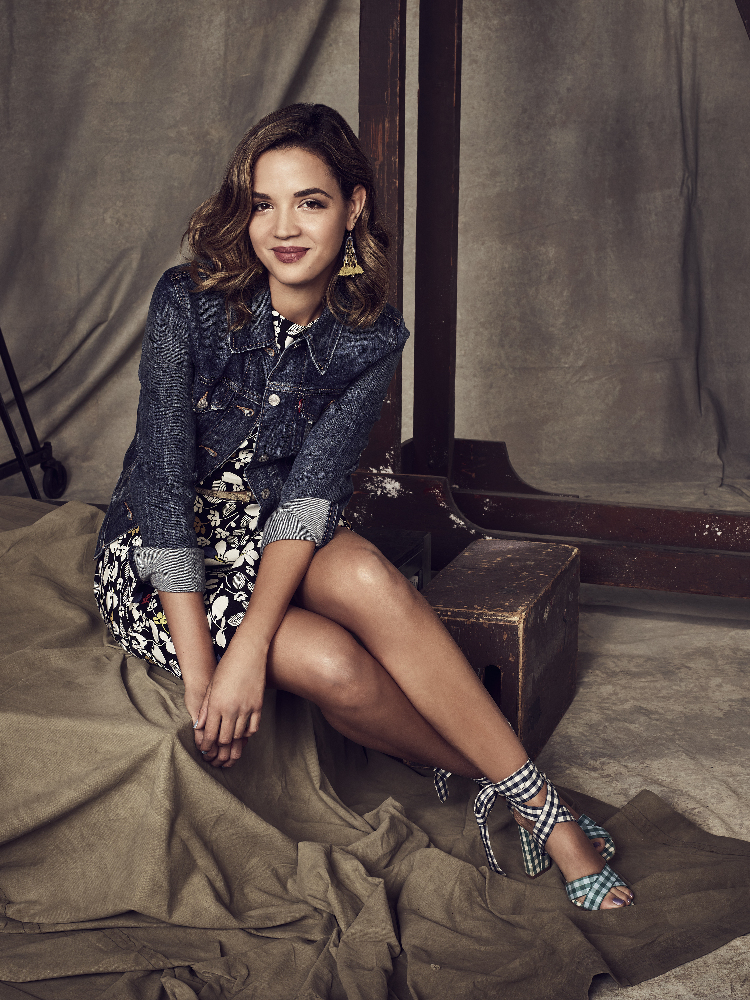 Meet Georgie Flores - Cassandra ("Cassie")
By: Samira Shahbandy
Like many of the other auditions Georgie Flores has done, she simply did it and forgot about it, not thinking that she'd get a role that would change her life. At the time of Flores' audition for "Famous in Love," there was no script yet for the show. Being in a situation with no character completely formed to act as, Flores made it her own.
"I went in [to the audition] and made it my own, funny version," Georgie tells us when we chat with rising star, shortly ahead of her new show's premiere. "I didn't have a script, so I made it my own and made it funny.
Because actresses will audition for hundreds of projects before getting a call back, Georgie has already learned to give it your best and then let it go. "I did forget about it," she confesses.
"I got a call a month later for a studio test,not a network test first, for a callback. I recorded my audition on my phone to practice it on the way there. I ended up running it, like, a million times.
I auditioned at Warner Brother with about 20 other kids there. I was so scared, and I was one of the last to go. I got a callback for the network test the next day with two other people," Flores remembers.
A few weeks prior to her audition, Flores got the opportunity to meet the show's casting director, which helped a bit of her nerves for the studio audition. When it came to auditioning for the network, Flores was beginning to let her nerves get the better of her.
"The casting director is an awesome human being, Georgie gushes. She just told me, 'You've got this. You're great. Just do as you did yesterday.' So I did it, and it was the best run I'd done. I had fun. I found out [I got the role] later that day on my way to work. My boss thought I got in a wreck on the way to work, but I told her I got the part," Flores recalls excitedly.
From there, once Flores got the script and saw the character, she wanted to make the character as she had in the audition. Even though the show isn't meant to be a comedy, the humorous aspect to the character was something that Flores, and the show's crew wanted to keep in the show. "I made my character, Cassie, goofy and funny," she states. "I think that's what they liked about it. When I got the script, I was able to keep the funny, weird moments. It brings some comic relief, but Bella [Thorne] is really funny. The show is probably funnier than it was supposed to be, but it ended up that way," Flores said.
"Famous in Love" is the latest show to hit Freeform. I. Marlene King, known as the executive producer/showrunner for the "Pretty Little Liars," worked on the show. Despite being so big in the business, Flores wasn't intimidated by her. "I met her at the first test. She was great, warm, and just really nice. From the beginning, I knew she was someone to talk to... she would always be there. I knew she was a big deal, but I wasn't scared of her at all," Flores shared.
The show, starring Bella Thorne who plays main character Paige Townsen, was an important step in Flores' career. In such an intimidating atmosphere, Flores didn't feel alone, especially because she had a friend by her side throughout the whole experience. "I knew Carter [Jenkins] five years before the show. I only knew him [before the show], but that was really cool. I knew I got the part before he was on it... I even saw him before he found out he got the part. It was really cool to have someone to experience it with. I was totally obsessed with his character, so pretending to obsess over him was really fun," Flores said.
On set, the two would hang out with the rest of the cast during their down time. "We usually were just hanging out. I would bring books. Bella colors-she brought coloring books [to set]. We played video games. Yeah, we just usually hang out with each other," Flores shared.
The show, which has ten episodes in its debuting season, is a TV adaptation of Rebecca Serle's novel "Famous in Love." It takes a look in the life of a college student who auditions for a Hollywood blockbuster and lands a major role. The character, Paige Townsen, finds herself suddenly thrust into the world of Hollywood, where she has to figure out her place and her love life.
The drama is difficult to choose one episode to favor over another, because they are all so intriguing.
"I don't really have a favorite episode of the show, but I really like episodes six, seven, nine, and ten. I don't want to give away episodes nine and ten, but they wrap up the show well. Episodes six and seven are fun for my character and another character," Flores hints.
To avoid making a falsely viewed Hollywood in the show, it stays true to the inside of what Hollywood is, what the scene is really like.
"I think it [stays true to the real Hollywood] as much as they can," Georgie states. "Auditioning can take a few months. Normally, there's a little more than two auditions. You see everything that goes into it... studios and everything involved. It's pretty accurate [to the real Hollywood]," Flores shared.
Flores, who started acting when she was six, isn't new to the acting scene, but she is fairly new to the Hollywood scene the show portrays.
"I started acting really young from 6-11," Georgie tells us. "I was doing plays and stuff. I always loved it! I stopped for a while for school. Finally, at 19, I had saved enough money to got to LA to figure it out from there. I took an acting class and sent messages to agents," Flores shared.
Growing up, her love for movies made her fall in love with acting.
"I watched so many movies as a kid... Disney movies. I'd watch cartoons. I wanted to be in movies. It was always a dream [of mine]. At 16, I told my mom I wanted to act. I always loved plays. Finally, I saved up the money and went," Flores said.
Although "Famous in Love" is Flores' first major role in a TV show, she isn't new to the television scene.
"I did mostly CSI [before "Famous in Love"]. I did [CSI] Las Vegas, [CSI] Miami], and [CSI] New York... that was it. Television is definitely different than plays. I did plays around 10 or 12. I booked my first show much later than that, and I did much different shows," Flores says.
In her free time when she's not on set, Flores is a typical young adult.
"I play the ukulele and I hang out with my cat, dog, and boyfriend. I've been looking at redecorating my apartment. I just painted my kitchen. My cabinets are now blue. We walk to see movies, which we'll see if they look cool or, sometimes, serious," Flores says.
Since she started getting serious in the acting world at a young age, she offered up a little advice for aspiring actors.
"Just keep going. Don't compare yourself to people who are better or worse [than you]. Do it because you love it. Keep going. It will eventually happen to you," Flores says encouragingly.
Like many shows, being in a cast and working with a network can become a regular occurrence. Flores' welcome to Freeform was like finding a new family.
"It's cool, really cool. There are so many great shows [on Freeform]. It's exciting to be a part of one of their shows! I'm very grateful for it!"
If fans really enjoy the show and want a second season, Flores said just watching the show or using the Freeform app will help get a second season.
Be sure to let the network know how much you love it!
"Famous in Love" premieres Tuesday, April 18 at 9:02pm EST.
Stop by next week to learn more about Niki Kloss who plays "Alexis!!"
Click on the photo below for a ton of pics from "Famous in Love's" pilot episode and publicty photo shoot!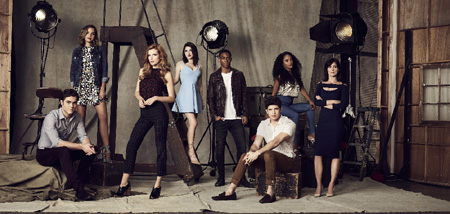 For more on "Famous in Love," visit http://freeform.go.com/shows/famous-in-love
Find out more about Georgie by following her on Twitter at: http://www.Twitter.com/OKGeorgie
Images Provided by: Freeform