Pitch Perfect 3 Arrives on Blu-ray and DVD!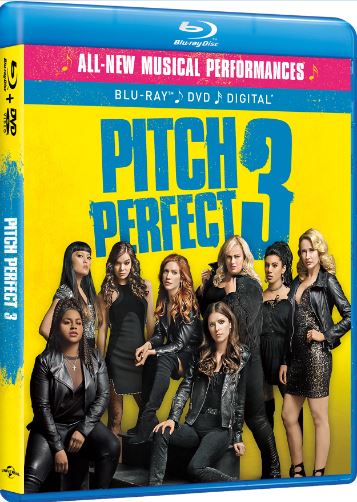 Bellas of the Final Ball! "Pitch Perfect 3" Hits All the Right Notes on Blu-ray and Digital Download!
By: Bethany Reed
The Barden Bellas are at it again with an adorably awkward and 'aca-awesome' new adventure! The third and final "Pitch Perfect" movie is set to debut on Blu-ray, March 20th. This musical adventure finds all your favorites from the first two films taking the fans on a wild ride through Europe, as the Barden Bellas reunite in hopes of honoring the troops on an USO tour. It is bitter to say goodbye to the Bellas, but sweet to see each of their stories wrap up, as they move on to the next chapter of their lives.
In anticipation of the release, we were able to speak with Chrissie Fit and Hana Mae Lee about the whole "Pitch Perfect" experience.
Chrissie Fit and Her Character "Flo"
Florencia 'Flo' Fuentes started her journey with the Barden Bellas in "Pitch Perfect 2" as a snarky and sarcastic Guatemalan exchange student. According to Chrissie, a dark sense of humor is not a character trait that she shares with Flo. "No!" She laughs, "This is interesting, Anna Kendrick said once that I'm probably the person who is the least like her character in the movie. I'm pretty bubbly and happy, I try to keep it positive. I think Flo can sometimes be a Debbie downer; a little morbid, dark, and sarcastic. That's why it was so fun- because she's not like me."
"The girls have pointed out," she adds, "I do sometimes say something in Flo's accent. It's partly because my mom has an accent. So, it's my mom, plus Flo in my head I guess."
As different as Chrissie is from "Flo," she didn't have a hard time 'stepping back into character' as she and the rest of the cast made sure to spend plenty of time getting back into their parts together. "We watched the previous movie together before shooting, and that helped. Just being with the girls, and being able to do our Bella Boot Camp, that helps us get back into the mind frame of playing these characters. So, it's a group effort; we all kind of help each other get back into the swing of it."
When discussing the changes in "Flo" from Pitch Perfect 2 to Pitch Perfect 3, Chrissie points out that Flo has really become a more organic part of the group. "She's not pointing out their differences, so much as in the second one. Of all the girls she's really the only one that has it together after college, so, I think that that was a really cool payoff for my character. To see how she came to this country and came to Barden to study, and has really made a name for herself, and has thrived was really cool. Also, I sing a little more, which is so exciting, to be able to have a couple like solo spots in the songs."
When asked about her love of music, Chrissie admits that, maybe at first, she was drawn to music because it got people at her family gatherings to pay attention to her. "You know, I'm going to be completely honest," she laughs, "I think it was the attention. When I was younger I was like 'Oh, my mom and my aunt, they sing, and my grandfather plays the guitar at family gatherings, and they all get everyone to pay attention.' I was like 'I want that' so I just started singing at family gatherings, and then I fell in love with it! I fell in love with the idea that you can tell a story through song. I was notorious in school, for making a production out of just a talent show. I think I did 'Genie in a Bottle' one time and I had them make a genie bottle that I came out of, and I had backup dancers. It was intense. I just love the idea of being able to make somebody happy, and that's really why I started singing."
She goes on to tell us a little about her love of musical theatre and her personal favorite musical. "My favorite is West Side Story. That's the one I watched over and over again as a kid, but my mom would stop the movie when Tony and Maria got married. She didn't want me to see the sad part. Until I was twelve, I thought it was a happy movie. I got the shock of my life when I was able to see the rest of the movie and saw it was such a tragedy."
Chrissie and the rest Pitch Perfect cast have become true friends to one another over the years, and she shares some of the adventures they had together during the filming of Pitch Perfect 3 with us:
"Because we knew that was possibly the last movie, we made a pact early on, not only to have fun while we were working and filming, but to also create memories off camera. We did all these things that solidified our friendship even more and that was really cool.
We had my birthday at the Atlanta Zoo and it was just such wholesome fun. We had pizza, we had lemonade, and they brought some animals out. It's a sanctuary too, so the animals were really- well taken care of. We played games, we colored... it was just really fun. Everyone came out, the cast, the crew -it was just jam packed with people. I felt so loved that day."
Hana Mae Lee As "Lilly"
Although it may not have been the career that her parents originally had planned for her, Hana's love for acting started at an early age. "I've always liked acting and performing since I was little. My mom used to always video tape me and whenever she would move the camera off of me I would get really upset. My parents didn't put me in entertainment, though, because they didn't know anybody in the industry, and they didn't see a lot of Asian actors out there. They wanted me to get a 'real job' because to them, acting wasn't real. So, I went to college for fashion design, but I still really wanted to act. When I was about to be a junior in college, I went to this agency called 'Dragon Talent and Models' and I booked a Honda commercial. I did ads for two years and I was getting more money than I could have made in fashion. Finally, I landed a theatrical agent who got me an audition for "Mike & Molly," "Workaholics" and "Pitch Perfect" and I booked those three in the same year."
"My parents were kind of upset at the beginning." She adds, "They were like 'You have a degree!' and I was like 'I know, I'm not using it!' Now they're super supportive, I think they just wanted the best for me."
Despite her early love for acting, she admits that it was hard breaking into the business. "It was a long journey. It took me seven years to even get an audition for a comedy, because I would only get auditions for ninja or samurai roles and at the time I just wanted to be a comedian. I wanted to make people laugh and the only roles out there were for martial arts and Asian accents. That was all very foreign to me."
Hana shares a little bit about her audition process for "Pitch Perfect" with us and jokes that the directors did not let her off the hook easy. "I first auditioned for Stacie's role, then they called me back to read for 'Lilly's' role. When I got there, and the casting director started reading lines, I was like 'What's going on?' They realized I had been sent the wrong script. Casting told me to go ahead and read the correct script. They said to take my time and speak softly. It was cute because 'Lilly' was supposed to be quiet, and in the script her lines were always written in a smaller font than the other characters."
Next, she was asked to perform a song, which she had not been expecting. "So, I did all that, and then Jason's like 'Great, we're ready for your song' and I was like 'My what?' And he was like 'Your song.' I was like 'Oh shoot I have to sing!' At the time, I was doing Korean folk singing in my standup, so I was like 'I'm going to do a Korean Folk Song.'"
"There's only a few songs I know by heart." She laughs. "Even if I've listened to them a thousand times I always forget the words. So, I sang the Korean Folk song and got good feedback, but they also asked for an American song. I chose Bryan Adams '(Everything I Do) I Do It For You', but because I had just sung the folk song my throat was very crackly. I kept squeaking at certain parts, and at one point I turned around and started singing facing the wall. I thought maybe that would help calm my voice. It didn't."
As we all know, Hana got the part and played "Lilly" in all three Pitch Perfect movies. We asked her how she thought her character had changed throughout the movies? "I think that 'Lilly' has definitely gotten weirder from the first movie to the third movie. In the first movie, 'Lilly' was a little bit more present. In the second one she was present, but still a little bit kooky. Then in the third one you start to see this love interest, and you think 'Oh maybe she's kind of becoming normal, and then it turns out she was possessed the whole time.' I think it works with her because she's so funny, quirky, and weird."
Both Chrissie and Hana are excited about the Blu-ray, and DVD coming out on March 20th and they went into detail about some of the extra features we can expect. "I love the gag reel," says Hana before admitting, "I curse a lot, so there is an entire gag reel of just me cursing. We also have extended musical numbers and a lullaby moment for Stacie's newborn baby. Also, the final performance is extended. There is also a 'Women of Pitch Perfect 3' feature, about the women acting and directing in the movies."
"What's cool about the DVD and the Digital Copy [out March 1]" Chrissie notes, "Is that you get to see us interact when the cameras are not rolling, in-between takes. I watched the gag reel and it got me so emotional. We had so much fun!"
Chrissie says that if there is one thing that she wants the fans of the movies to see, it's the importance of strong, supportive friendships. "I hope that the fans of the films see the friendships that we've created, on screen and off screen, and the positive examples of female friendship where you support each other and are there for each other, and that inspires them to have these healthy relationships in their life. I already see it happening in real life, and on social media. The fans of "Pitch Perfect" have become their own support system and it's beautiful to see that. I think that this movie represents a lot to a lot of young girls and women in general; because it's very rare to see a movie with ten women at the center. So, I just hope that they take away the friendship and the love and apply it in their lives as well."
"I think being empowered by yourself and finding people who lift you up too," adds Hana. "I feel like everyone has their own individual voice in this movie and you see everyone kind of grow up to be comfortable in their own skin. I think rooting for yourself is super important."
Raise your voice in song and sing a-long with the Bellas when "Pitch Perfect 3" arrives on Blu-ray and DVD, Tuesday, March 20th. Saying goodbye to old friends never sounded so good!
Follow Chrissie on Twitter: http://Twitter.com/ChrissieFit
Follow Hana on Twitter: http://Twitter.com/HanaMaeLee
For more on "Pitch Perfect 3" visit http://www.PitchPerfectMovie.com/